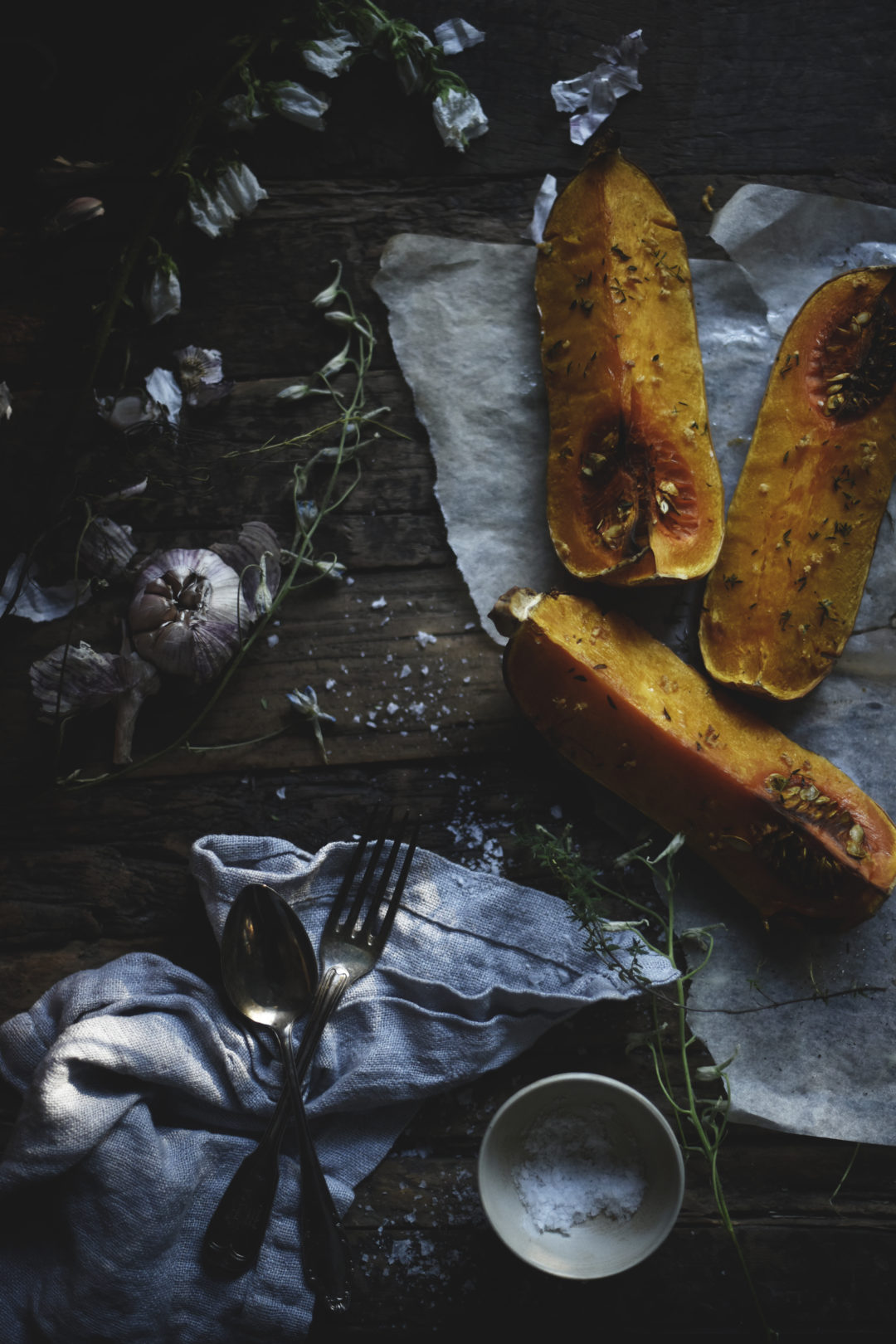 This is a perfect winter dish and that's why it's my new favourite side! (+ You can eat it as a side or as the main course.)
3 years ago I didn't know anything about butternut squash. But then I traveled to Oxford and I got to taste this amazing pumpkin – roasted in the oven, with ricotta cheese and a little pinch of salt. I was in heaven.
When I got back home I couldn't find this delicious pumpkin anywhere (I was shocked that something so good wasn't sold in my corner shop)! But fortunately nowadays you can find butternut squash from almost every grocery store.
Once there wasn't any ricotta cheese in my corner shop – I had to make a new recipe. And it may be even better than the original: butternut squash with garlic, salt and fresh thyme. (Maybe the perfect recipe would be the mix of these two: both ricotta and garlic + fresh thyme!)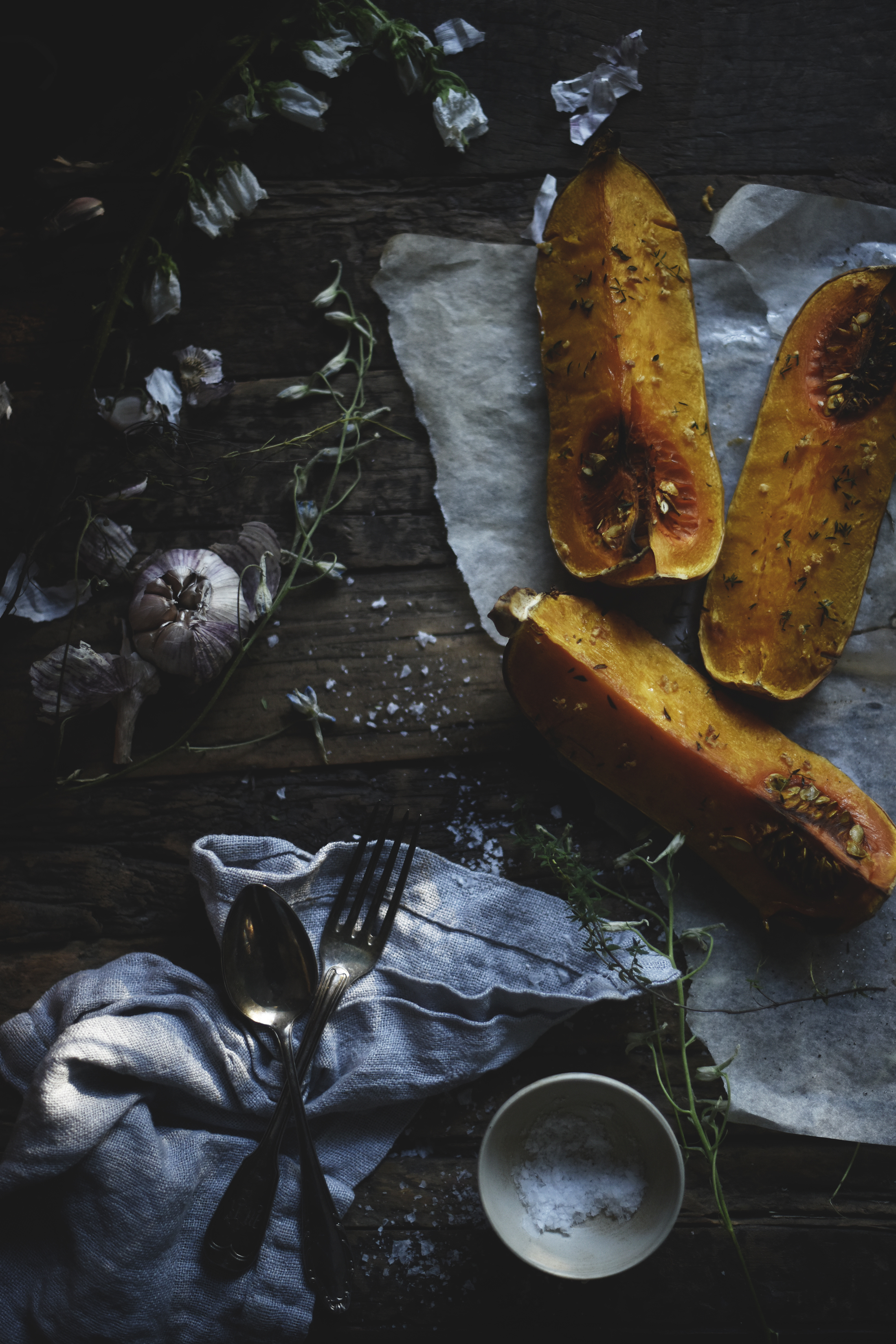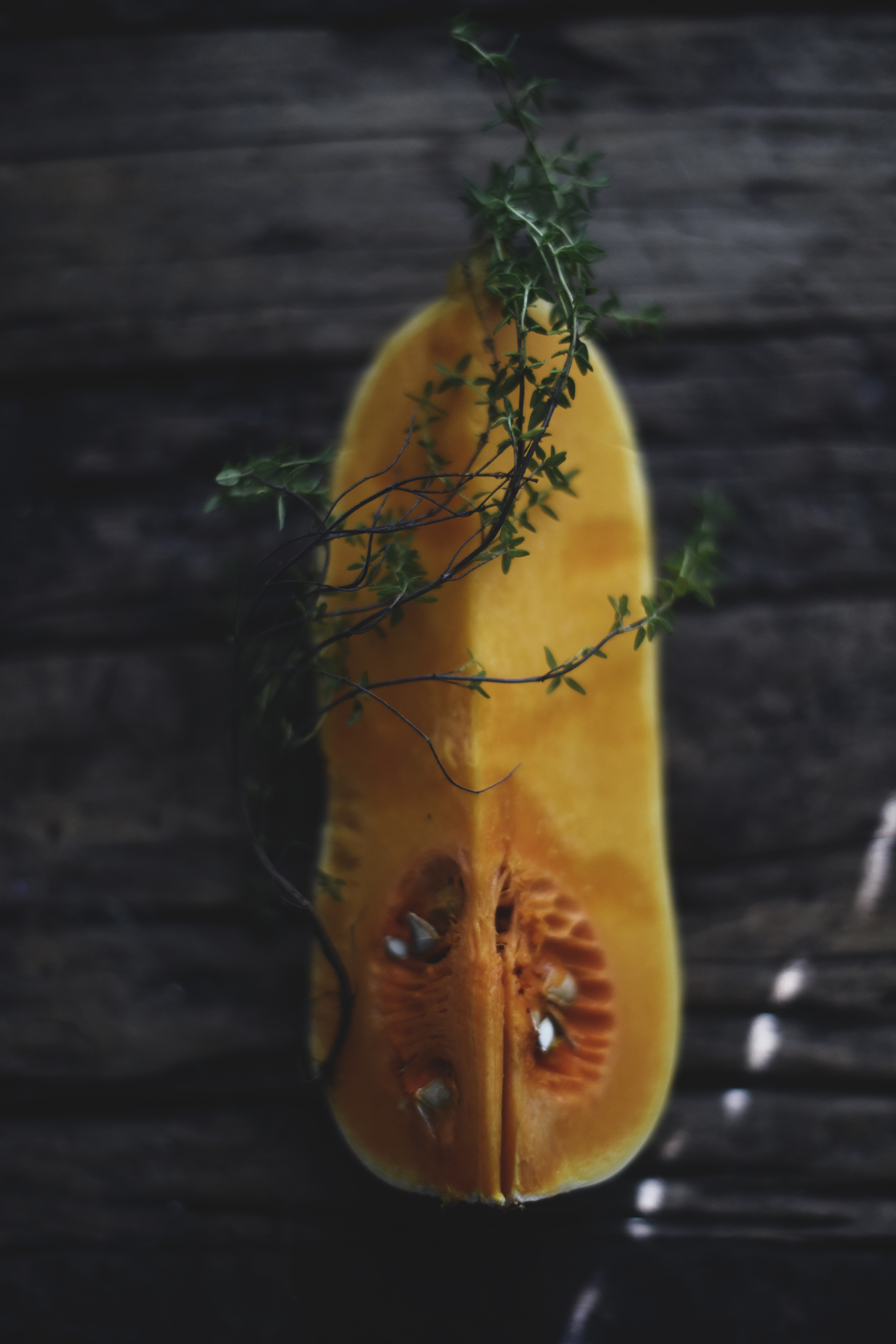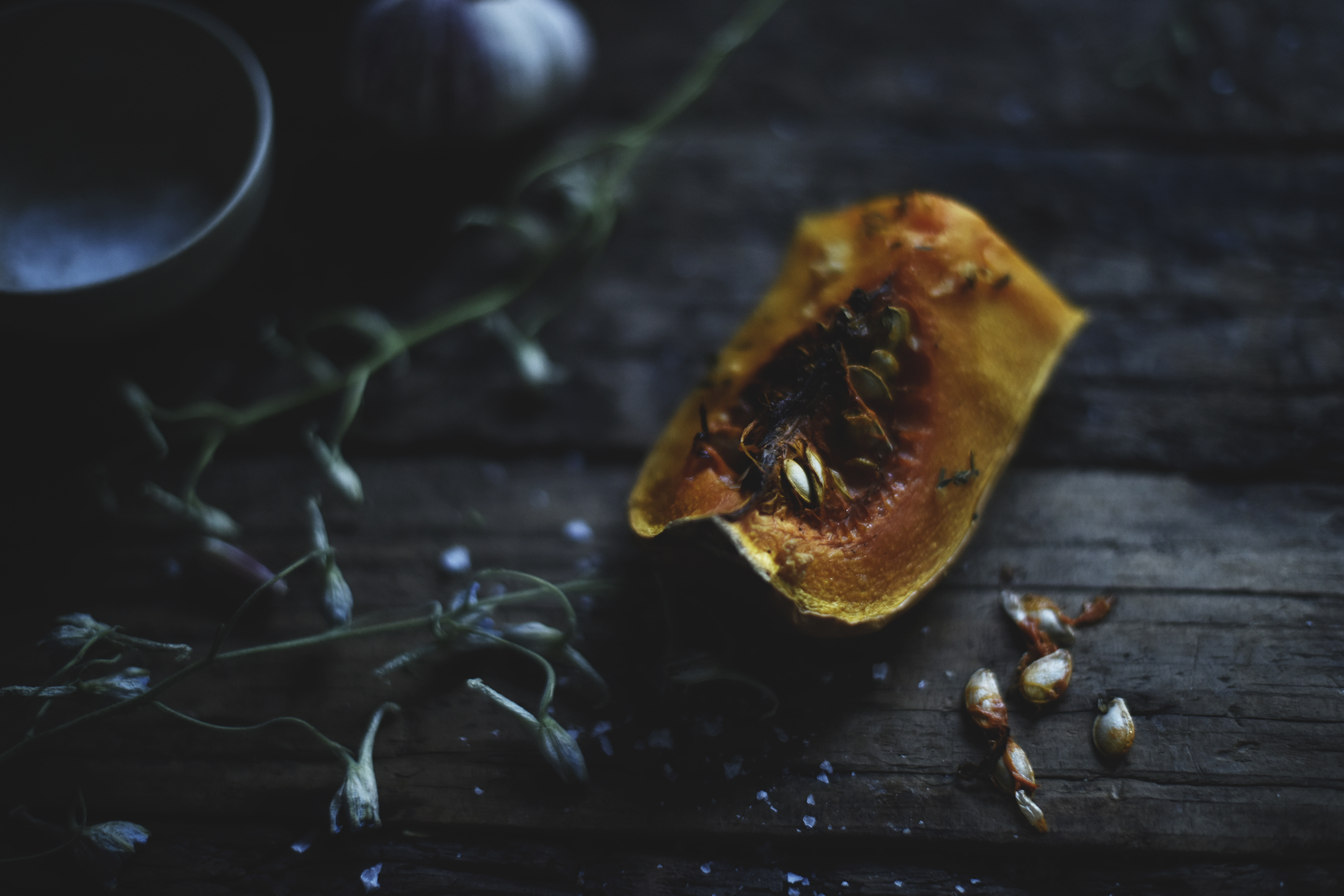 ps. remember to save the seeds, they're delicious when roasted in the oven!

.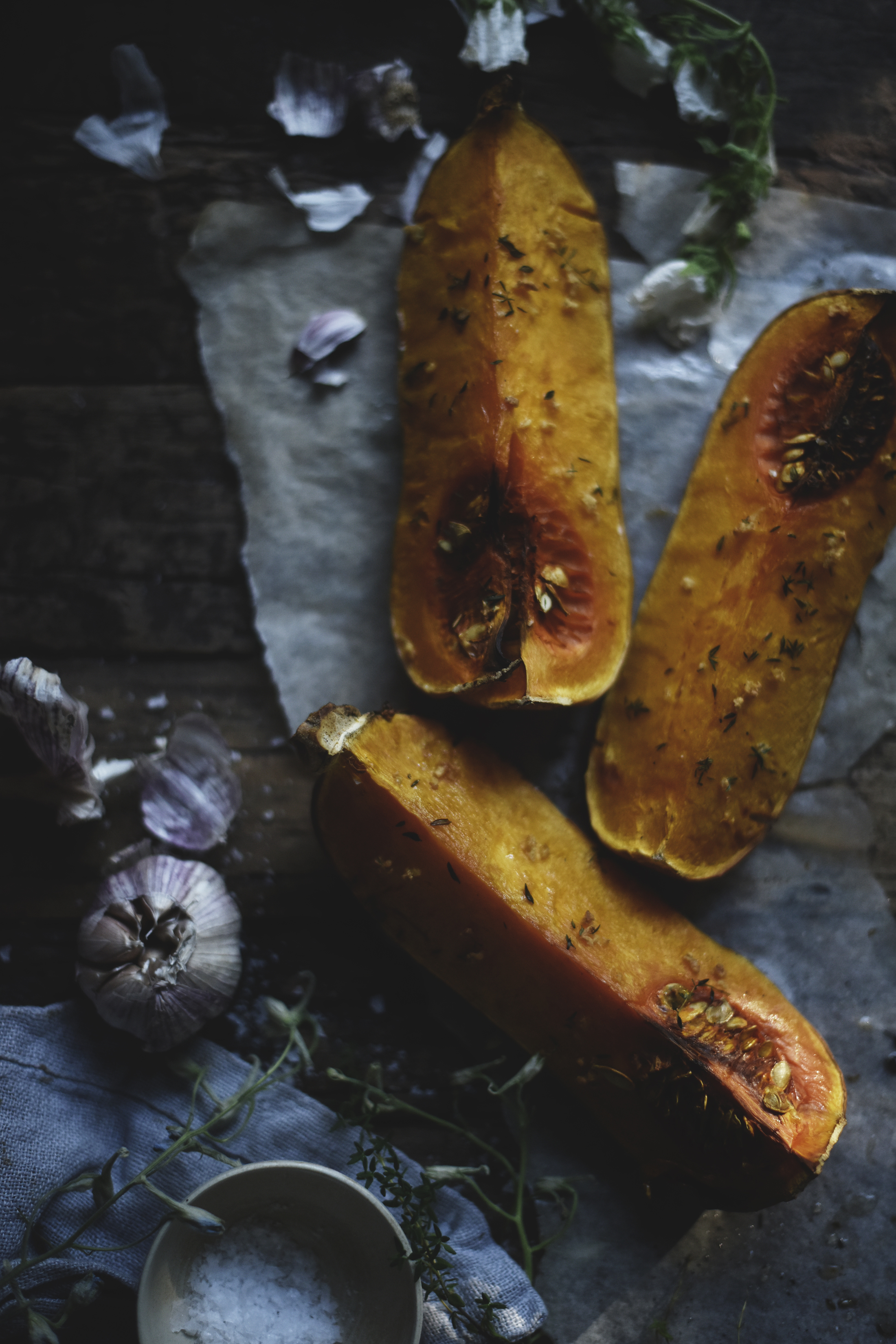 Roasted butternut squash with garlic and thyme
serves 5-6 as a side / serves 2 as a main
takes 50 minutes to make

Ingredients
1 butternut squash
2 big cloves of garlic
4 tbsp canola or sunflower oil
a couple of pinches of salt
a handful of fresh thyme
Instructions
Preheat oven to 200°C.
Cut the butternut squash lengthwise. Then cut the halves in two so you get 4 equal pieces. Place the pumpkin on a baking paper, on a baking tray, the cut side up. (Don't remove the seeds, they're delicious after roasting!)
Crush the garlic cloves and spread the oil and the garlic over the squash slices. Season with salt. Add the thyme on top. Bake the squash slices in the oven for about 40 minutes until they are soft and the rind of the pumpkin comes off easily. (If you want to cut up the cooking time, you can chop the squash into smaller slices.)
Enjoy for example with tzatziki or hummus or serve as a side at your dinner table!
Notes
Note to my Finnish readers:
Butternut squash = myskikurpitsa