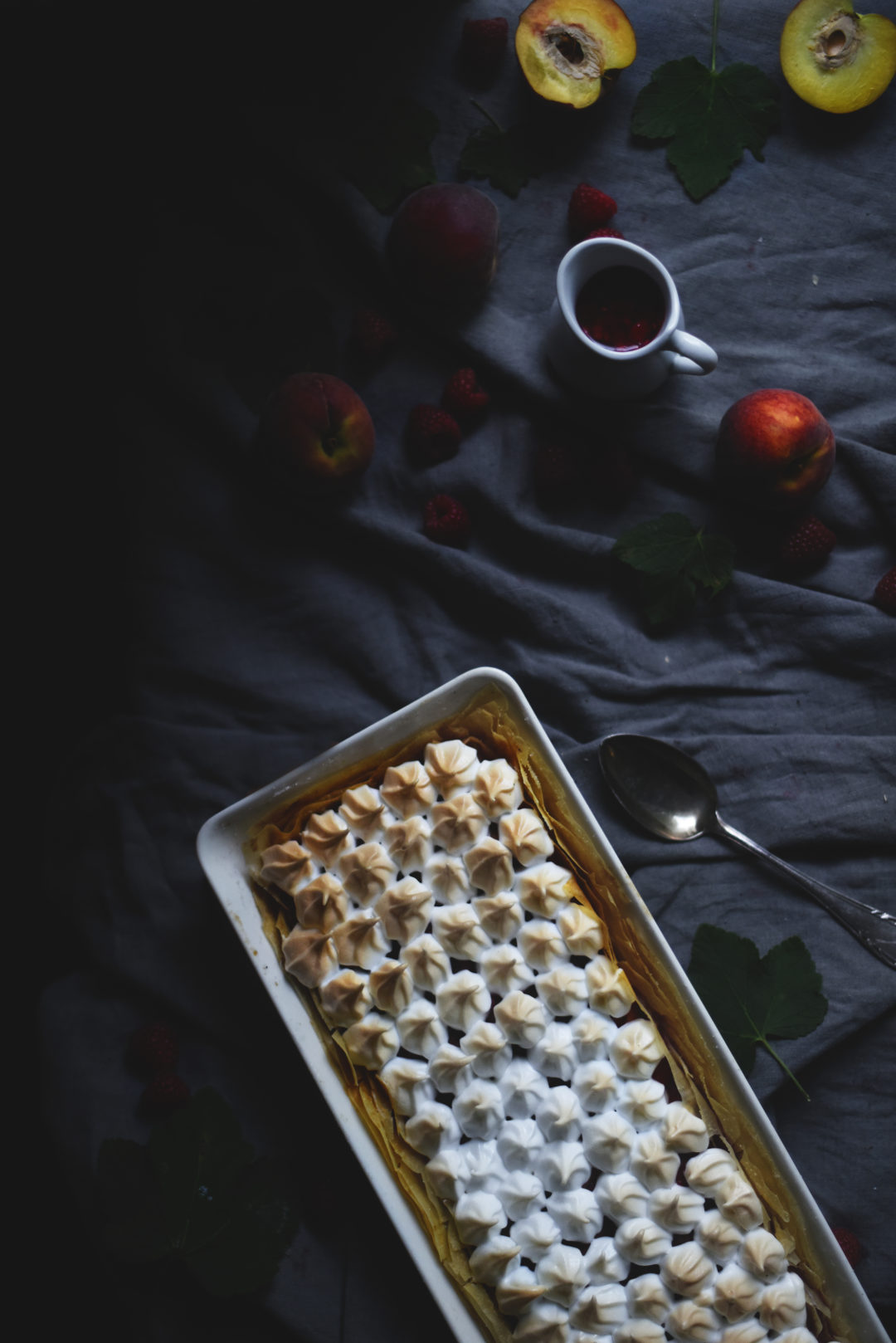 My mother had her birthday in the beginning of July. I wasn't home on that day (sorry mom!), so we celebrated her birthday a bit later. I wanted to surprise her with a new dessert I hadn't made before. I also wanted to use filo pastry, so I ended up trying this peach raspberry pie with meringue topping. And it was delicious. Bitter raspberries, sweet peaches and meringue and crispy filo pastry are a really yummy combination.
Now I wanted to share this recipe with you!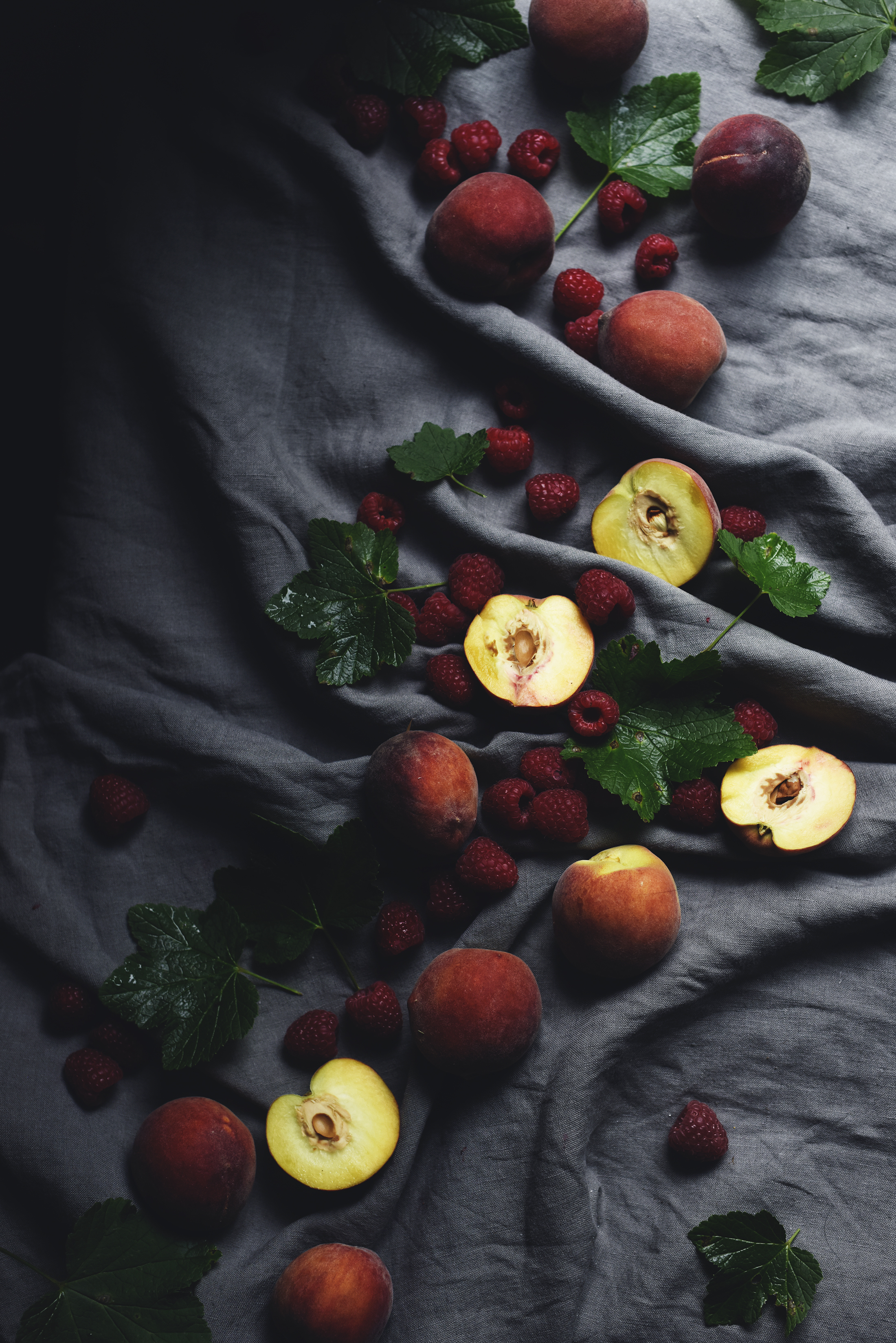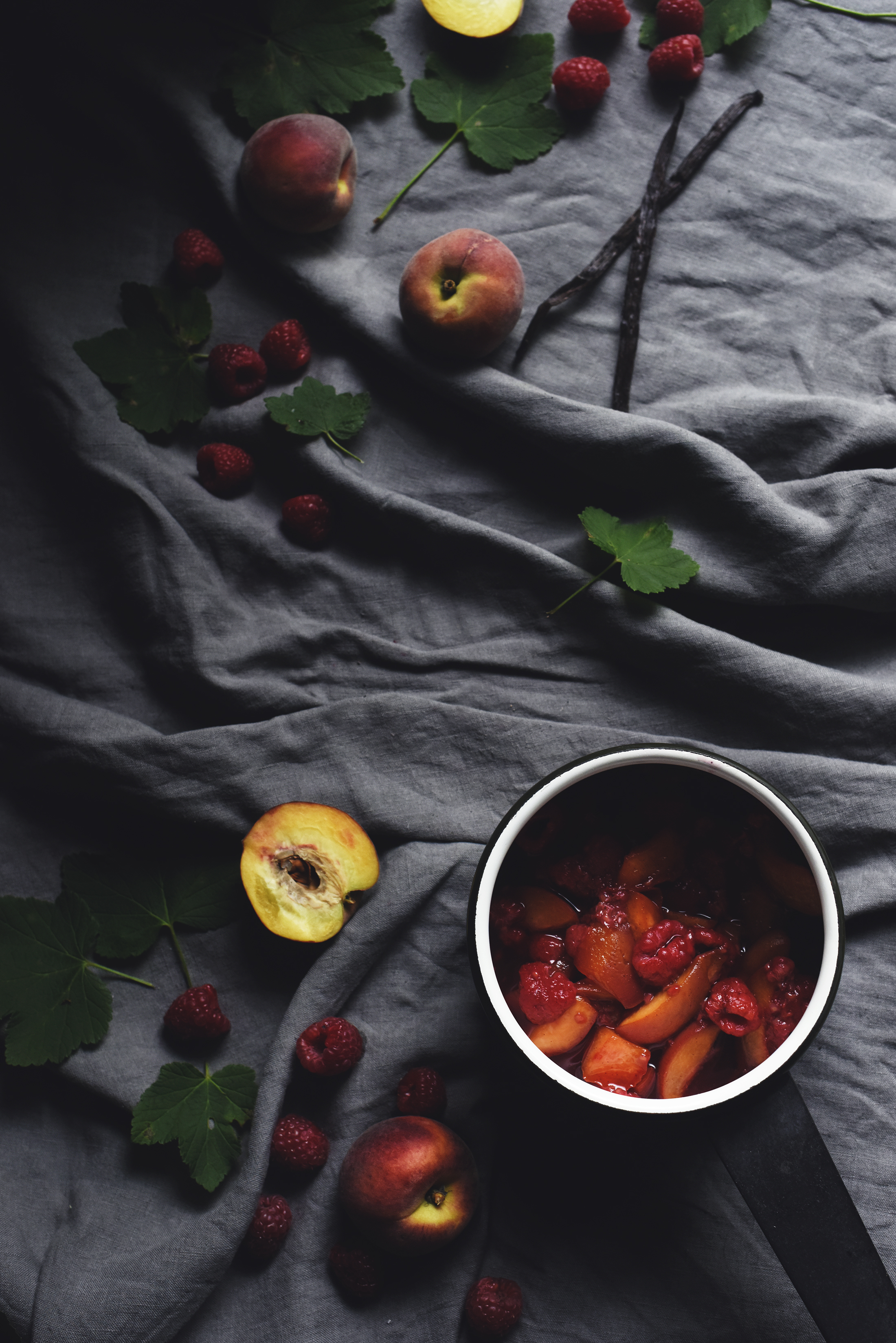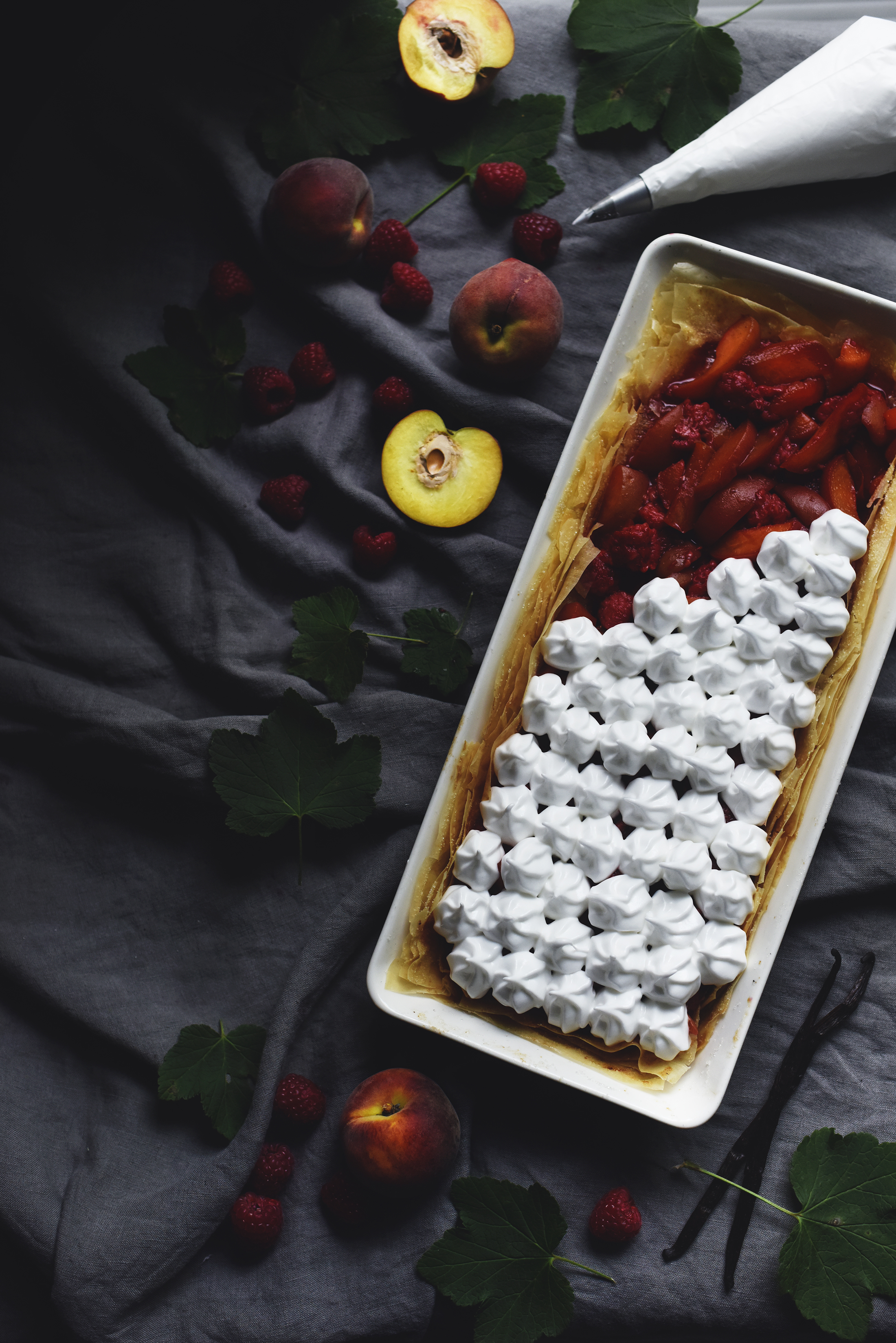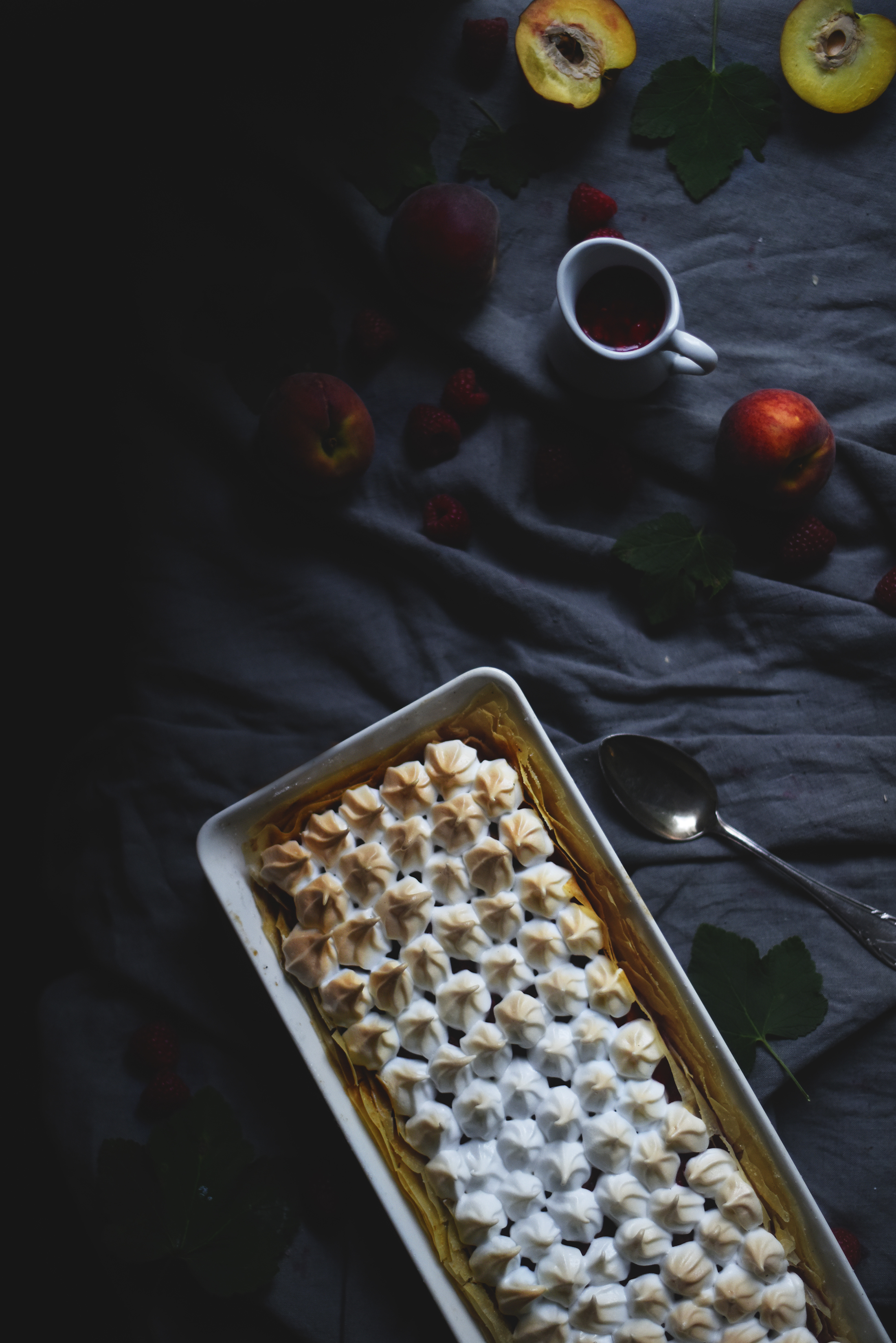 Peach raspberry pie with meringue
makes 1 pie
takes 1 hour to make
Ingredients
100 g butter
6 tbsp of granulated sugar
6 sheets filo pastry halved (=12 smaller sheets)
Filling:
2 tbsp granulated sugar
¼ cup (600 ml) honey
1 vanilla bean
5 peaches (about 800 g)
250 g raspberries
Meringue:
3 egg whites
½ cup (120 ml) granulated sugar
Instructions
Preheat oven to 150°C.
Melt the butter in a saucepan. Place one filo sheet on the dish (I used 16,5 x 38 cm baking tin). Brush the filo sheet with butter and sprinkle with ½ tbsp of sugar. Top with another sheet, brush with butter and sprinkle with sugar. Repeat with the remaining filo sheets. Finish the last filo sheet also with butter and ½ tbsp of sugar. Bake in the oven for about 30 minutes (the pastry should be light golden brown). Set aside to cool.
Make the filling. Wash and cut the peaches into 1-2 cm thick slices (remember to remove the stones). Heat a sauce pan over medium heat and add the sugar and honey. Split the vanilla bean and scrape the seeds. Add the vanilla seeds and peaches to the sauce pan. Cook for 10 minutes, stirring frequently, until the peaches are soft. Add the raspberries, stir and set aside.
Make the meringue. Whisk the egg whites in a big bowl. It's easier to do it with a mixer (but you can do it with an eggbeater too.) Whisk until the whites form firm peaks. Add the sugar while mixing, a little bit at a time. Whisk until the meringue mixture is white and glossy. (A classic way to test if the meringue mixture is ready: turn the bowl upside down; if the meringue holds its shape, it's ready!)
Top the pastry with the fruit mixture, but don't pour over the juice (save it for later to use as a sauce!). Put the meringue mixture in a piping bag (remember to put the piping tip down in the bottom of the piping bag first). Pipe the meringue onto the fruits and bake the pie in the oven for 5-10 minutes, until light golden. Serve with the juice as a sauce.